This Month's Featured Marketing Company
The Right List
Contact: John Foster
20A Northwest Blvd #290
Nashua NH 03063 USA
Phone: 1800-697-5977 ext 112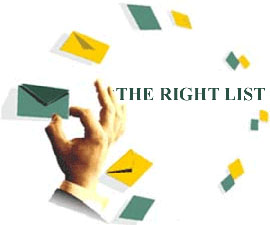 Email Marketing
Types of data: Micro-targeted, Semi-exclusive, Hotline, Double opt-in, Can-spam compliant
We provide b2b and b2c targeted opt-in email, co-registration, lead generation, hard data, contextual marketing, creative services, email append, reverse append, mobile marketing, data cleansing, and list management. Finally Marketing with a guarantee.
It is our mission to create successful business relationships built on trust. This requires providing you with not only inexpensive solutions, but high quality marketing campaigns as well. To achieve this goal our top priorities are to: listen to our customers needs, employ flawless solutions to fully monetize each of our clients marketing goals, make our clients vision our own. Our main focus is success through innovation, technology and strategy and you can expect only the finest assistance in accomplishing your objectives. Experience a company that will work hard for your success, The Right List. Act now and receive 20% off your next email campaign.
Social Media Marketing Solutions Including Facebook, Twitter and Google+
Understanding the request form...
What are you selling

: Most email campaigns are selling a product or service. Name that product and/or service in this field. (for example: security services, accounting software)

Target Market

: Name here who you see as the market or potential buyers of your product/service. (for example: home owners, accountants)

Size of your mailing

: How many emails do you plan to send -- this will affect your potential revenue and cost. (for example: 100,000 to 250,000)

Your Time Frame

: When do you plan to do your mailing? (for example: mailing within one month)

Campaign Details

: Give a more complete description of what you are planning. (for example: I plan to do 3 sequential mailings to homeowners in New Jersey in order to sell a new security system.)
If you are looking for a list or marketing services please fill out the form below and you will receive proposals pertaining to your project.
Request Information From Suppliers